U2 Vertigo - Minneapolis 09/23/05 Concert Review @ 11:38 pm
hanluvr
:
I'm currently feelin:
excited
I'm currently hearin: U2 - 40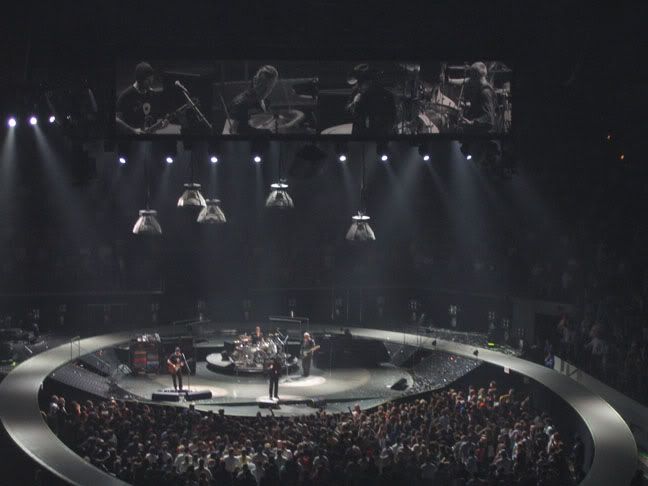 City of Blinding Lights
Vertigo
Elevation
Electric Co
The Ocean
Still Haven't Found What I'm Looking For
Beautiful Day
Miracle Drug
Sometimes You Can't Make It On Your Own
Love and Peace, or Else
Sunday, Bloody, Sunday
Bullet the Blue Sky
Miss Sarajevo
Pride
Where the Streets Have No Name
One
Encore: The First Time
Who's Gonna Ride Your Wild Horses
With or Without You
All Because of You
Crumbs From Your Table
Yahweh
Vertigo
The show started off with City of Blinding Lights. This was my first U2 concert and it was finally underway! During Elevation Bono brought a young lady up from the general admission who had brought along a sign that said, "I lost 75 lbs to dance with you," and he did. I got weird looks from the couple next to me when they noticed I recognized and sang along to Electric Co and The Ocean. I guess they didn't know the songs. Their loss. I didn't let it concern me and just enjoyed myself.
The part of the show I enjoyed the most was when Miss Sarajevo. Bono started out about telling how the inspiration behind the song and that they recorded it with Luciano Pavarotti. He joked that Pavarotti was not with them this evening, but that he had put on some weight. During the song he hit some of the high notes and while he wasn't quite the tenor himself, he did quite well.
Other highlights for me were the performances of Miracle Drug and Bono explained that Edge was from the future and that he was a scientist who fell in with the wrong crowd. Before performing the song, he decided to it the doctors of the Mayo Clinic.
The encores were also a lot of fun. I wish they had perhaps chose another song over The First Time, but I was very happy to get Who's Gonna Ride Your Wild Horses, one of my favorites. They also played Crumbs From Your Table for the first time on tour. I heard the start of "40" and then Bono yelled ENCORE and they launched into Vertigo. That was unexpected, but somehow appropriate. Finally he ended by telling everybody to go to bed.
Too Many Pictures Are Not Enough