Coexist shirts @ 07:56 pm
seishin
:
I'm currently feelin:
contemplative
I'm currently hearin: moby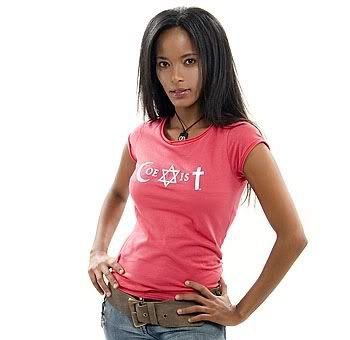 "Simply Co-Exist" Make more than just a fashion statement while wearing this chic handmade cotton tee. Combining the three monotheistic symbols to spell COEXIST conveys a lifestyle of unity and acceptance. The "C" stands for for the cresent moon of Muslim, the "X" in the form of the Star of David and the "T" elogated like a cross. Band together with celebrities such as Bono, Jennifer Aniston and Ashton Kutcher, and expose the distraction of discrimination and promote peace, unity and acceptance. This short sleeve firecracker red colored tee is decorated with the COEXIST logo across the front in bright white with sky blue stitching around the logo and the sleeves. Available in sizes S-M-L.
'Make a fashion statement'. For
$79US
. I like the idea, but $80 for a cotton shirt???? Seems a bit much.
Link to the actual page
(really wishing that this wasnt my first actual post to the comm, after lurking on the boards since September. But yeah. *sigh* Regular newbie info: I'm from Canada, and have been a fan since
Achtung Baby
(although I knew about them during the
Joshua Tree
era, AB was what made me take notice. In my defense, I was 7 when JT was released XD). Finally got to see them live @ two of the September Toronto dates (up in the nosebleeds and in GA by absolutely insane luck), and was completely blown away by their live show...the energy, the sound...all of it. Probably only two other bands have been able to leave that much of an impression on me with their live performance. I still get chills thinking about it.)