(no subject) @ 10:44 pm
sapphires13
:
Yes, I am such a U2 nerd.
I was grocery shopping today, and I happened to stumble upon a display at the end of one aisle for
Vertigo Pops
. I went WTF and honed in for a closer inspection. Apparently they're little lollies, which are half chocolate, half candy, and they came in three flavours: Chocolate/Strawberry, Chocolate/Caramel, and Chocolate/Cookes & Creme. They were only 48 cents each, so I could not resist picking one up, if only to get it home, take a picture of it, and post it here XD Yes, I am a nerd.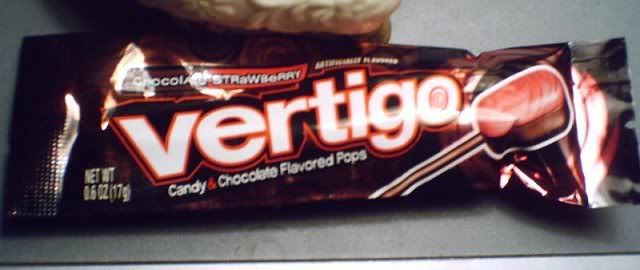 I opened it up and tasted it after taking the picture, it's not bad. The strawberry part has that nice, cheap-but-good strawberry candy flavour (reminds me of the Spice Girls lollies I used to get, way back in 97 =P), the chocolate part though isn't that good (then again, I'm a bit of a snob when it comes to chocolate). All in all, well worth the 48 cents. But of course, I've had Vertigo stuck in my head ever since