How many of you lovers were at Chicago with me on Tuesday night?
Wasn't it amazing? One of the best shows I've ever seen. I've never seen Bono engage the crowd so much and talk so much! It seems like they have a real soft spot for Chicago and I love that they aren't afraid to show it. This was an exciting concert for me because I brought my aunt and younger sister along, who are lifetime U2 fans but have never been able to go to a concert. It was great watching them have their first experience!

My first concert was in 2005 and I got to meet Bono and The Edge.
Saw them in September 2009 in Chicago.
And then on Tuesday we saw them again -- and I met The Edge again!

Pictures to follow....




My aunt, my sister, and me! We had nosebleed seats but it really was okay, since we didn't have to crane our necks to see anything.




This would be Edge signing my iPhone case! He was really fantastic and really spent time signing for EVERYONE. Spent a good 10-15 minutes with all of us! He was very sweet, cracking jokes and smiling a lot. What a cutie patootie.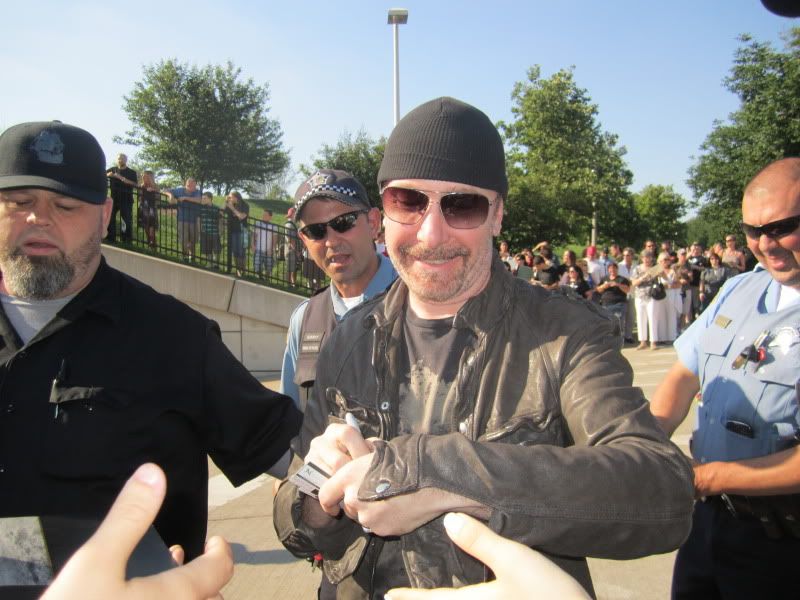 My sister's hand is off to the left, and he's just about to shake it!
I'm so glad they were able to have the experience of meeting a band member.
I never thought I'd be so lucky to meet one of them AGAIN.


So, if you went, what did you think?
How about OUT OF CONTROL?! I danced SO HARD when they played that. It was awesome to hear.
And ONE TREE HILL. OMG. Goosebumps --and completely unrehearsed, impromptu? It was amazing.